10 Two-Minute Videos That Pave the Way to PBL in Your Classroom
|
Years ago, I decided to convert my boring traditional middle school classroom into a vibrant, student-centered, project-based learning environment. This was a monstrous undertaking that added a lot of stress to an already stress-filled job.
In spite of years of hard work and frustration, I stuck with PBL, because I knew it was best for engaging my students and helping them become independent learners.
What made creating real PBL experiences challenging was teaching kids to work efficiently on their own and understanding how to properly assess learning without traditional tests and quizzes.
I muddled through, using trial and error because back then there was no go-to blueprint for teaching PBL and inquiry.
Today, PBL is much easier, thanks in large part to the new Hacking Project Based Learning: 10 Steps to PBL and Inquiry in the Classroom.
10 Quick Tips for Starting PBL Tomorrow
In these 2-minute videos Hacking PBL co-authors Erin Murphy and Ross Cooper share 10 things you can do tomorrow to begin creating your own amazing PBL experience that your students will love.
Curious about PBL and inquiry? Look inside Hacking Project Based Learning.
Deciding exactly what to focus on during your PBL unit can be tough. Following the Hacking PBL blueprint will eliminate all your frustration.
Inquiry-based learning can seem overwhelming and time-consuming, but it doesn't have to be.
Using a Progress Assessment Tool promotes student reflection and builds self-assessment skills. Start shifting the ownership of assessment today!
Direct instruction still exists during a PBL unit. The structure of the PBL classroom allows for individualized instruction delivered through mini-lessons. Click here to get started.
Feeling pressured to grade your project? Getting your parents involved is just the start.
Build your own project-based learning environment today.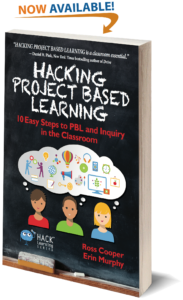 The following two tabs change content below.
Mark Barnes is the Founder of Times 10 Publications, which produces the popular
Hack Learning Series
,
The uNseries
, and other books from some of education's most reputable teachers and leaders. Barnes presents internationally on assessment, connected education, and Hack Learning. Connect with
@markbarnes19 on Twitter
.
Latest posts by Mark Barnes (see all)